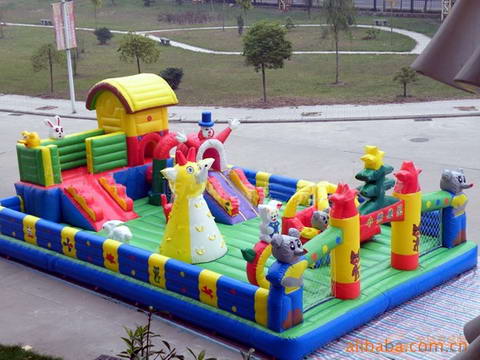 Outdoor Giant Inflatable Fun City/Inflatable Amusement Park
Item No,: GA-1037
Name: Outdoor Giant Inflatable Fun City/Inflatable Amusement Park
Size: 12mL x 8mW
Material: 0.55mm 18oz PVC Tarpaulin
Blower: 1 pc 680W, CE/UL, plug can be customized
Printing: Pannel and Banners for your option
Accessories: materials, repair kits, carry bag and glue, etc
Setup: Indoor/Outdoor
Operators: 3-4 persons
Occupancy: 10-12 persons

This item inflatable Fun City can be used in Amusement park, Square, theme parks, backyards, schools, playing centers and some commercial parks, etc. Kids like best. Vivid color, reasonable design, suitable character size and best handwork. All our Inflatable Fun City Games are made by high durability fire-retardant 18 oz PVC Tarpaulin, which has 3 layers, two coated side within a strong net inside.
Give us a call or
Contact us
directly with any questions if you have!
Detailed Product Description
1, Children under 6 years old is strictly prohibited to play thrilling project.
3.Managers should arrange the play for children, all in accordance with the rules of the game play, in order to avoid unexpected.
2, Avoid young children and older children playing together in order to avoid collisions.