Inflatable Water Park
is a very exciting and interesting water game for adults and children more than 7 years old. Players can climb on, sit on, and walk on the different parts of it like inflatable iceberg, Inflatable Water Trampoline, Inflatable Slides, Inflatable Totters, and so on. We use 0.9mm commercial grade reinforced PVC tarpaulin(Waterproof & flame resistance) to make all the Inflatable Water Games with hot-air machine. And we will make the size and colors according to your requirements.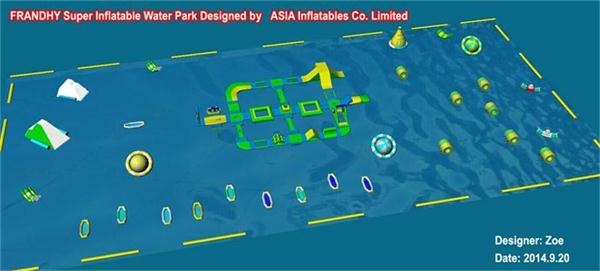 SET UP YOUR OWN INFLATABLE WATER PARK
Here's a new spin on the water park concept. Instead of heading off to the traditional, overly-crowded, somewhat disgusting local water park, consider an inflatable water park.
I first spotted the trend while on holiday in the Caribbean, so I may be a little biased. But just think about the benefits: you don't have to deal with murky, chlorinated water or unclaimed band aids swimming floating down the slide beside you. Whether in a lake or at the beach, this water park just feels cleaner and more adventurous.

All kinds of
Inflatable
Park
is safe for fun.
Buy water ball, zorb ball, Inflatable pool, inflatable boats, inflatable water park and other inflatable water toys in time for summer from China Water Park Manufacturer. We have items for every budget and every yard.