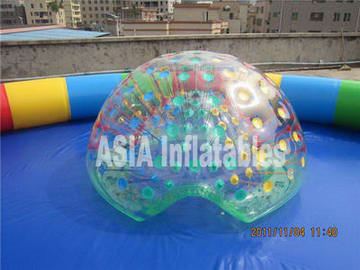 Water Cocoon Hamster Ball,Water Coconut ball
Item No.: Water Walking ball-211
Name:
Inflatable Cocoon ball, Beach ball,
Water Cocoon Hamster Ball, Water Coconut ball
Size:
Outside Diameter1.8m, Height0.6m.
Material:
0.8mm
PVC or0.75mmTPU
Colors:
Transparent, Red, Yellow, Blue, Green, Apple Green, Pink, White, Black,Orange, Purple, etc.
Package:
PVC Tarpaulin Bag + Webbing Bag. (double package)
Delivery Way:
By Express, By Air or By Sea
Delivery time:
According to your requirements
Payment:
T/T,Western Unionor Cash
Usage:
Swimming pool, Water, etc.
Accessories:
CE/UL Inflatable Pump
Repair Kits: i
ncluded, PVC Material, Glue. Etc.
Detailed Product Description
Inflatable Cocoon ball, Water Cocoon Hamster Ball, Water Coconut ball is made with PVC or TPU material,1.8m Diameter, 0.6m High. It is one of the best options for entertainment on the water. Players can also play in the ball on the lawns or on the beaches to enjoy excitement.
Widely used for playing center, amusement park, water games, holiday events, swimming pool and seashore scenic spot.
The wide welding seams of water walking balls make the ball more durable!
High quality with competitive price of this ball will be provided.